Owning Your Own Home Is Easier Than You Think
Are you still renting?  Some of the things that might be holding you back could be
I can't afford a

home

Renting is easier
Now is not a good time to buy
I don't have

down payment
There could be a number of other reasons which are keeping you from buying your own place.  Yes, the housing market right now IS a hot sellers market.  However there IS one market that remains a great option for buyers.  Listen here to find out what it is.  This is an actual case-study of a recent client who fired their landlord and became home owners.
For transcript, click the down arrow here  [expand]
[00:00:00.240]
Are you currently renting and thinking you can't afford your own home? Let me dispelled that myth right now.
[00:00:22.680]
So are you renting right now and wondering if or how you could afford a new home? Let me tell you what happened to a client of mine very recently. They called me at the end of May to tell me that they were they had been renting for about five years and everything was going okay until a noisy tenant moved in above them and they finally had it.
[00:00:40.720]
So they were looking at alternatives, but they didn't initially think that they could afford it. I put them in touch with my mortgage specialist and this is what we came up with. So they were pre-approved for $300,000 and their initial plan was to find a stand-alone home.

But in the south end of the city, St Vital, , Fort Richmond, Richmond West. Now there are neighborhoods in Winnipeg, where I can find you are really nice. home for 300,000 dollars or less. Standalone house. But St. Vital, , Fort Richmond, White Ridge. Those kind of areas are not among them.
So after a few disappointing showings, we switched focus and we started looking at condos. Currently they lived in about an 800 square foot apartment, two bedrooms, one bath, outdoor parking, and they were paying 1,210 dollars a month. After looking about three or four condos. This is what we found them for $275,000 dollars.
[00:01:32.780]
Owning a Condo is an excellent alternative to renting
We got them a three level townhouse condo in Bridgwater. Here's what you've got on the main floor. You have a small office area plus closets and the laundry room, and that is the door to the attached garage. So they go from outdoor parking to a single attached indoor garage.  On the second floor, we have a half bath, a really nice, open, modern kitchen with all the appliances, all stainless steel appliances included the patio door leading to the balcony and a large living room area.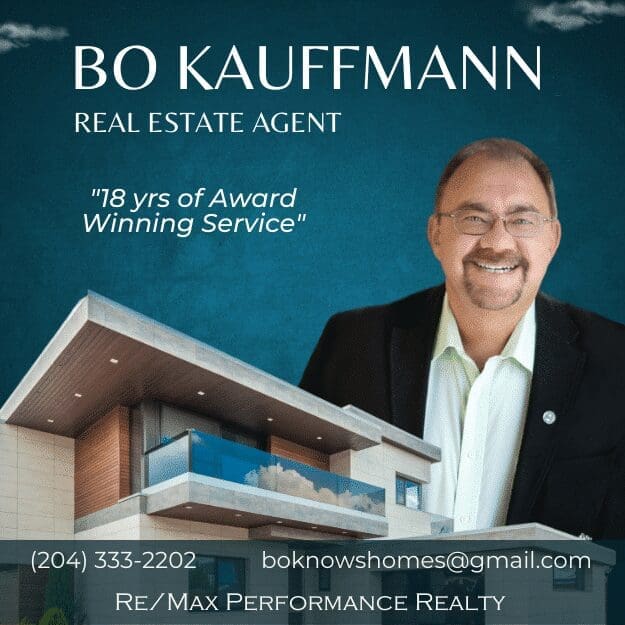 [00:02:03.760]
And the top floor features two good sized bedrooms, a main four piece bath and the large master bedroom with a full en-suite and lots of closet space. Now, as I said, their apartment was 800 square feet. This condo is 1,350 square feet. So let's take a look at how those costs compare. As I already said, they initially paid twelve hundred and ten dollars for rent plus hydro. So this condo, we got them for two hundred and seventy five thousand dollars.
[00:02:31.510]
They put five percent down, but there's CMHC fees lumped into it, which is around four percent. So let's say that they had to mortgage a two hundred and seventy five thousand dollar mortgage and figure out what the interest is on that. So let's be generous and say they're paying 2.4% , which makes a monthly interest costs of 550 dollars.
So, yes, the actual mortgage payment is going to be higher. But anything above the interest goes against their own mortgage payment. So that money is not lost. It's not an expense. It goes to pay down their own debt. The only real cost in owning your own home is the interest.
[00:03:06.670]
After this, a property tax of 250 dollars per month and then a condo fee of 225 dollars a month. Now, hydro costs are going to be very similar as their rented space, as will insurance. The condo building insurance is actually included in the monthly condo fees.
[00:03:22.300]
So all they have to do is add condo owners insurance, which is similar to renter's insurance. So add up all these costs and instead of 1,210 a month, their cost of living in their own home is $1,025 dollars per month. So that's nearly two hundred dollars a month less than renting the garage. Lack of noisy neighbours. All that is just a bonus.
[00:03:42.520]
So here's an interesting tidbit. If you're looking for a house right now, houses are at a premium.  There's only about 1,300 homes for sale in Winnipeg as opposed to last year, this time when there was nearly 1,900. So houses are harder to get. But you know what remains a buyer's market?  It's condominiums. And if you're renting right now and you're itching to get into the housing market, a condo might be a great stepping stone. It's true that condos probably will not appreciate as much as houses, but it is a stepping stone into owning your own property.
[00:04:14.110]
There are many benefits other than increased property values to owning your own home. Homeowners benefits include renting it out or borrowing money against it, fixing up the inside, paying down on the debt. So you know that that savings is basically it's tax free because that's your primary residence. So if you're thinking of getting into the housing market or into the owning your own home market, condos are a great option because right now there are still over 600 condos for sale, which is comparable to last year at this time.
[00:04:46.470]
Here's another tip. Those clients of mine didn't actually have 5% down. The mortgage specialist was able to find them a mortgage which used borrowed down-payment. So that is a way of using a like a line of credit at your bank. Now, in order to qualify for that, you have to have exceptional credit. You have to have above average credit rating. But even so, even if you don't have five percent down, there may be a way to get you into owning your own property with borrowed down payment.
[/expand]
The fact is that condominiums are an excellent option for the first time home owner.  Here are a few reasons WHY condos should be high on your list if you are thinking of owning your own home.
1)  Nicer Home for less money
You can buy a really nice condo for around 200K, and for around $275 to 300 you can get attached garage or underground parking, central air and large places. In short, you get more bang for your buck in a condo
2) No bidding wars
Unlike houses, condos are in a strong buyers market.  No bidding (usually) means that the buyer can get a longer finance condition, or even make an offer 'subject to the sale of their home'.
3) Same Ownership Benefits
With just a few limitations, condo owners enjoy many of the same benefits as house owners. They can borrow money against their home, sublet it, rent it out, fix it up, customize it to suit their needs , etc. (some restrictions may apply)
4) Condo Fees pay for a lot
Condo fees are NOT the big boogeyman they are sometimes made out to be.  These fees will reduce your home insurance costs, and usually include water bills. Most condos are also cheaper to heat than stand alone houses, and sometimes the fees even include the heat outright.
5) It's a lifestyle
Condos are not for everyone, but they are PERFECT for the right person.  No yardwork, grass cutting, much less home maintenance or upkeep. Condos are perfect for:
Young busy Professionals
Retired people
Travelling enthusiasts
Single people
If you're currently renting an apartment or house, consider firing the landlord and owning your own home.  Pay yourself instead of paying the landlord.
---
---
About the Publisher
Bo Kauffmann is a residential real estate agent with over 18 yrs experience in helping buyers and sellers achieve their goals.  Inducted into the
REMAX Hall of Fame
in 2010 and receiving the
REMAX Lifetime Achievement Award
in 2019, Bo has sold over 500 houses and condos in the Greater Winnipeg market.  He is an accredited buyer representative (A.B.R.) and a Luxury Home Marketing Specialist.   Bo provides exceptional service to First-Time Home-Buyers, Seniors looking to downsize and Home Sellers of all ages.   He can be reached easily   
By E-Mail
or call/text him   
Call/Text Here
---
---
  Never miss an episode of our real estate podcast. Install our
FREE Podcast App
available on iOS and Android. For your
Apple Devices
, click here to
install our iOS App.
For your
Android Devices
, click here to
install our Android App.
Check my
videos on Youtube
Check out our Podcast