Home-Buyer Interview with Real Estate Agent Bo Kauffmann
.
When I start working with a new buyer, whether its a home-buyer or condo-buyer, I like to start the process with a personal meeting, during which we discuss a number of topics relating to the real estate buying process in Winnipeg.
We start by taking a look at what type of home the buyer is looking for.  We narrow the search down to specifics, such as
Price Range

Location in Winnipeg

House or Condo

Number of Bedrooms

 
From this, we next discuss a number of items which directly relate to YOUR needs.  Starting with:
You will be receiving all of the latest listings, which will be full of abbreviations and real estate terminologies.  We take a look at the listings and I will explain what it all means, and how to read the information.

Whats the state of the local real estate market?
It's nice to know that Winnipeg is a hot market!  Nice….but not sufficient.  We need to take a look at YOUR specific market.  For example, if you're buying a condo, your 'market' will be different than someone who is buying a house, and different from someone buying a luxury condo, and so on.
Closing Costs
I will explain some of the major costs involved in buying a house or condo.  Things such as the dreaded Land Titles Transfer Tax, legal costs, home insurance cost, and moving fees.
Importance of being pre-approved
Most buyers know that they need to be pre-approved.  But there is actually more to it than that: being pre-approved by the RIGHT lender is very important.  Let's make sure you're ready to go, when we find you a great home.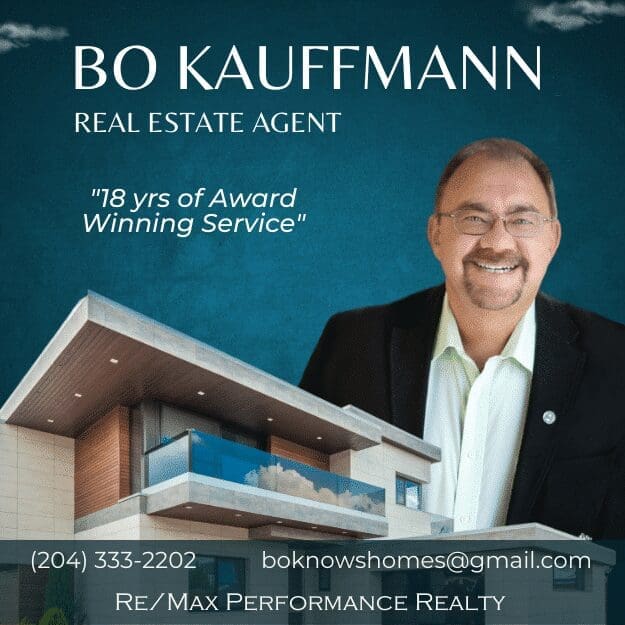 How to write a winning offer
It's a very competitive market.  But there are ways to win these 'bidding wars'.  Or, if your finances aren't the greatest, there are ways to AVOID the bidding wars in the first place.
Importance of Deposit Cheques
Why do we need to put a deposit down when we buy a home?  Is it safe, or could you lose it?  We discuss all of these options and possibilities.
If you are looking to buy a house or a condo in Winnipeg, please call me anytime direct at (204) 333-2202 or email me a [email protected]
---
Related Stories
blog.winnipeghomefinder.com10/30/12
6 most popular articles on Winnipeg's Real Estate Blog includes tips for buyers, home and condo owners and sellers.
blog.winnipeghomefinder.com10/18/12
All Remax Luxury home and condo listings in one place Luxury houses and condos from $500000 to $5 million and more.
---
---
About the Publisher
Bo Kauffmann is a residential real estate agent with over 18 yrs experience in helping buyers and sellers achieve their goals.  Inducted into the
REMAX Hall of Fame
in 2010 and receiving the
REMAX Lifetime Achievement Award
in 2019, Bo has sold over 500 houses and
condo
s in the Greater Winnipeg market. He is an accredited buyer representative (A.B.R.) and a Luxury Home Marketing Specialist. Bo provides exceptional service to First-Time Home-Buyers, Seniors looking to downsize and Home Sellers of all ages. He can be reached easily
By E-Mail
or call/text him   
Call/Text Here
---
---
  Never miss an episode of our real estate podcast. Install our
FREE Podcast App
available on iOS and Android. For your
Apple Devices
, click here to
install our iOS App.
For your
Android Devices
, click here to
install our Android App.
Check my
videos on Youtube
Check out our Podcast