Buying, owning or living in a condo is not for everyone. Condo living is unique in many ways. But for the right person, and right situation, a condo is the perfect option. Here is a list of
7 Situations When Condo-Living Is Right For You
1) You're a new or first-time home-buyer.
Buying your first home can be daunting. There's a lot involved in owning a home that can be overwhelming if you have never been in this situation. Why not make your life that much easier by making your first home a condo? With a Winnipeg condo you can work with your condo board and condo agency to determine the big decisions, such as how to deal with damaged property, and a caretaker will be available to clean the outside of your building (including everything that you won't personally own, like the hallways).
2) Your kids have moved out.
Thirty years ago you bought a nice big house in anticipation of having several children. But now that they've moved out, it feels like there's a whole lot of empty space and rooms that you just don't need. This is the perfect opportunity to transition to a condo that's more suited for you and your spouse.
3) You want to make the transition from renting to buying, without the hassle of caretaking for the building.
Washing outside windows. Shovelling the snow off the driveway. Caring for the lawn. Cleaning the eaves troughs. All of this takes a lot of time and effort, and they are all tasks you dread (or don't know how to do). Purchase a Winnipeg condo and you won't have to worry about any of these chores!
4) You are looking to downsize in general.
How much "stuff" do any of us really need? You might have roomfuls of things that you haven't used in years. By the time you get rid of all of it and clear your house of the clutter, you might see that the amount of space you have is just too much. Downsizing to a condo can be a nice way to get rid of old things you don't need and just keep what you really want – and give yourself some peace of mind.

5) There is only one or two of you in your household.
Condos are ideal for one- or two-person households. You might be too busy to take care of a big home or it might just feel too empty, as in the above reason of kids moving out, in which case living in a condo will feel like just the right size for you.
6) You travel frequently.
Why deal with the headaches of arranging for people to take care of your home and yard while you travel when you can live in a condo? Condo living allows you to simply lock the door and walk away – after asking your neighbour to take in your mail, of course. You can also trust that your home will be very secure and safe while you travel due to the extra locked doors between the door to your condo suite.
7) You're interested in living in the heart of downtown Winnipeg.
This was right at the top of my personal reasons for choosing a Winnipeg condo – there's nothing quite like living in the centre of a city, and with the many condos popping up all over downtown Winnipeg, now is the time to buy!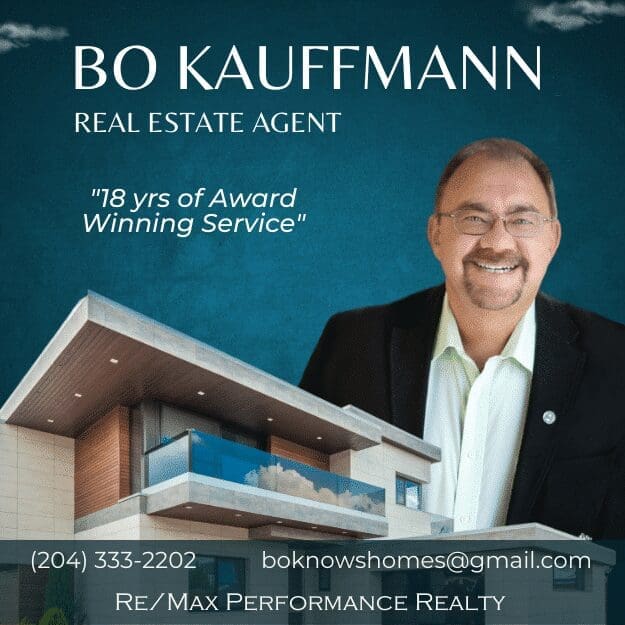 For more info on condo-living, check the Condominium Act of Manitoba or the equivalent law in your area.
Sagan Morrow owns an open-concept condo in Winnipeg's Exchange District and loves downtown living. She writes the blog Living Healthy in the Real World, is the Executive Director of the Food Label Movement, and is the Dig In Coordinator / Acting Youth Outreach Coordinator / Development Coordinator for Food Matters Manitoba. Sagan is a freelance writer and editor as well as a Certified Holistic Nutritionist. She enjoys taking in the theatre and culture of downtown Winnipeg during her spare time.
---
---
About the Publisher
Bo Kauffmann is a residential real estate agent with over 18 yrs experience in helping buyers and sellers achieve their goals.  Inducted into the
REMAX Hall of Fame
in 2010 and receiving the
REMAX Lifetime Achievement Award
in 2019, Bo has sold over 500 houses and
condo
s in the Greater Winnipeg market. He is an accredited buyer representative (A.B.R.) and a Luxury Home Marketing Specialist. Bo provides exceptional service to First-Time Home-Buyers, Seniors looking to downsize and Home Sellers of all ages. He can be reached easily
By E-Mail
or call/text him   
Call/Text Here
---
---
  Never miss an episode of our real estate podcast. Install our
FREE Podcast App
available on iOS and Android. For your
Apple Devices
, click here to
install our iOS App.
For your
Android Devices
, click here to
install our Android App.
Check my
videos on Youtube
Check out our Podcast