Spotlight on: Sky Waterfront Condos
Located along scenic Waterfront Dr. in Winnipeg, we find the this very special condo project. The Sky Waterfront Condos.  This modern, all concrete building offers many amenities along with its central location.  Close to the baseball park, the new Human Rights Museum and theatres, in the East Exchange District.
Year Built:  ca. 2009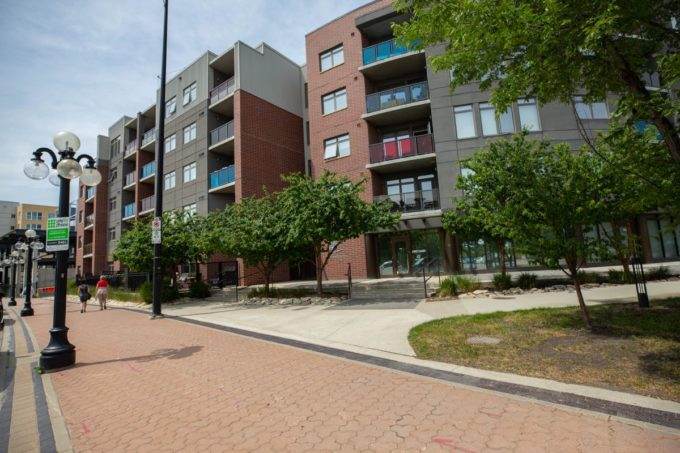 Total Condos:
Sky Waterfront Condos are made up of 112 condos in 1 building.  There are 2 sections to this building, one being 5 storeys tall, the other 7 storeys.  Totally connected, each section also has its own elevator.  Units range in size from 809 sq feet for a 1 BR plus den, to larger units of 1600 sq feet.  There is even a 2,000 sq ft unit as well.  Note, the 1 BR plus den could actually be called a 2-BR unit: even though the 'den' does not have a window, it is equipped with a sprinkler system.
Condo Restrictions:
Just the usual condo-restrictions, such as "No Laundry to be hung from the balcony" etc.  Pets are allowed, so long as they don't pose a nuisance to other owners.  Owners are allowed to rent out their suites, however must put up a $1,000 leasing levy to assure that their tenants abide by all rules.
Property Taxes
Gross Property Taxes range between approx. $2900.00 per unit to $6000, depending on size.  Of course, as an owner who actually lives in their unit, you would qualify for the Provincial Home Owners Assistance Rebate, similar to when you own a house.
Condo Fees
Condo fees range between $250 and $500 per month, which includes snow removal, property maintenance, water and management fees.  Owners pay for their own hydro, telephone, and cablevision.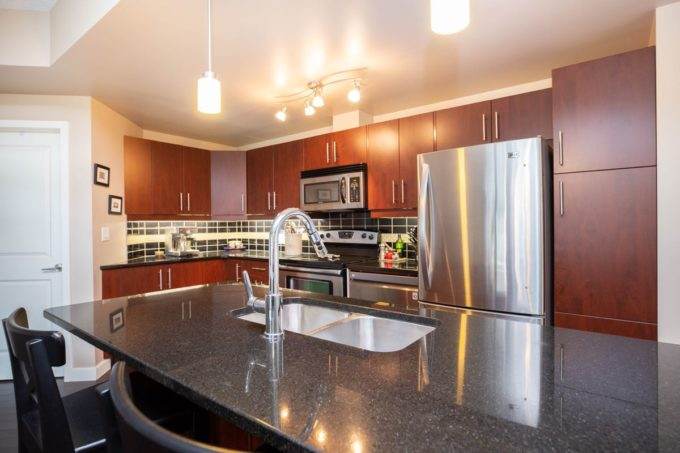 Laundry and Parking
All units have their own insuite laundry, and most have an underground parking spot, although a few include an outdoor spot.
Amenities of Sky Waterfront Condos
This building has some very nice amenities, including a spacious fitness room, a residents lounge with TV, kitchen and pool table, and a nice rooftop patio with gorgeous views of the river and downtown. Suites include central air and furnace.
[show_nearby_places place_id='4′]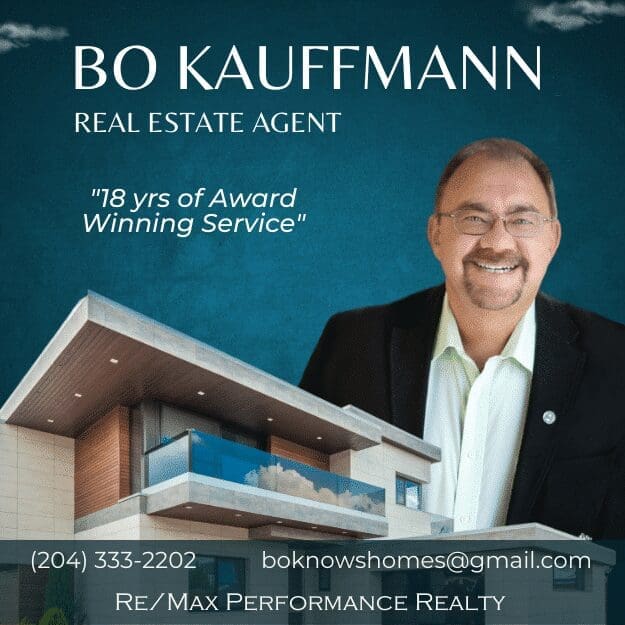 Location of Sky Waterfront
Very central location, right on Waterfront Dr, this condo is close to the theatre district, the ballpark, the Canadian Museum of Human Rights and much more.  You'll find restaurants close by, in the Exchange District of Winnipeg.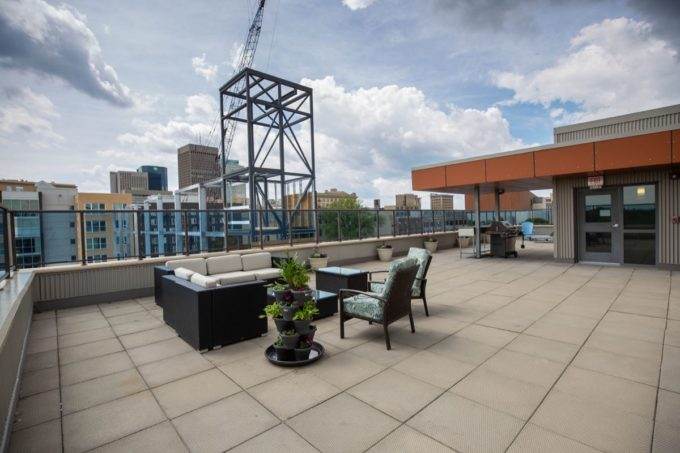 Prices
During the 2 yr period of 2016-17, condos at Chimney Ridge have sold for between $237,000 (for an 800 ft 1-BR) and $412,000 (for the 1555 multi-level unit) (MLS® stats)
If you're in the market to buy a condo, whether at Sky I Waterfront Condos or anywhere else, please contact me anytime…. "Bo Knows Condos"
If you're thinking of selling your condo, anywhere in the city, please contact me anytime.
Direct Cell  204-333-2202  or email me at [email protected]
---
---
About the Publisher
Bo Kauffmann is a residential real estate agent with over 18 yrs experience in helping buyers and sellers achieve their goals.  Inducted into the
REMAX Hall of Fame
in 2010 and receiving the
REMAX Lifetime Achievement Award
in 2019, Bo has sold over 500 houses and condos in the Greater Winnipeg market.  He is an accredited buyer representative (A.B.R.) and a Luxury Home Marketing Specialist.   Bo provides exceptional service to First-Time Home-Buyers, Seniors looking to downsize and Home Sellers of all ages.   He can be reached easily   
By E-Mail
or call/text him   
Call/Text Here
---
---
  Never miss an episode of our real estate podcast. Install our
FREE Podcast App
available on iOS and Android. For your
Apple Devices
, click here to
install our iOS App.
For your
Android Devices
, click here to
install our Android App.
Check my
videos on Youtube
Check out our Podcast