Which top 5 features do YOU want in your next house?
.
What are the top features home buyers look for? What do YOU want in your first or next house? This is a self-adjusting, updating list of things home-buyers want in their next house. Some buyers focus on a nice kitchen, updated bathrooms, modern windows and furnaces, while others are more focused on the location, style or bedroom sizes. What do YOU need in your next home? You can help shape the results of this article by voting for your favorite 3 or 4 "must-have" items.
How this list works
Please select the 5 most important things YOU would look for when buying a house.  Only 5!  
Here are 11 of the most common options and features. Please select your favorite 5. Over time, as other people add their top 5 choices, the list will adjust and the most-wanted items will rise to the top.
Want to add your own feature?
Sure thing: Just click the "Add Item" and fill in the spots…. I will moderate, and once added to the list, other people can vote on your addition. Let's have some fun.
.
Other Stories
https://blog.winnipeghomefinder.comFebruary 22, 2013 8:22:46 AM CST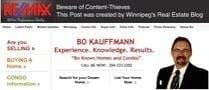 Active House Listings in Winnipeg, listed on MLS® by Re/Max agents . Re/Max is HUGE in Winnipeg, representing nearly 40% of all property buyers and/or sellers in our city. Being a Re/Max agent, allows me to display all active listings of house (and condos) in Winnipeg. This is an 'active' list, changing dynamically as new […]
The post Houses for sale listed by Re/Max agents in Winnipeg appeared first on Winnipeg's Real Estate Blog.
---
RSS Feed Powered by MaxBlogPress Bring My Blog Visitors Back
Our Latest Web-Stories
Never miss an episode of our real estate podcast. Install our
FREE Podcast App
available on iOS and Android. For your
Apple Devices
, click here to
install our iOS App.
For your
Android Devices
, click here to
install our Android App.
Check my
videos on Youtube
Check out our Podcast