A small garden size does not mean that you have to compromise on quality. Designing gardens with cobblestones is one of the best options that you have out there. Basically, these stones are ideal for decorating smaller spaces because they are easy to maintain, don't cause a bomb and these can also be used for different aesthetic aspects. Along with this, they can also be versatile enough for being used with other varieties of stones. So here are some options available.
Cobblestones
Many people do not use stones while doing their landscaping, and miss out on the artful application. Homeowners take a lot of pride in using landscaping stones to decorate their gardens and lawns, which enhance the landscape, design. Previously they were only used to build decorative paths and walkways.
Now, cobblestones can be used in a wide range of ways. There are many creative designs that can be implemented such as using them to decorate ponds, garden outlines, as flagstones, patio etc. They add a very unique look to your landscape design. People can either use simple stones or carefully crafted stones which add style.
There are a variety of landscaping stones available in different colours that can be used to decorate your yard. Some of these teams include limestone, granite, marble, slate, cobbles, pebbles acquired from river beds, sandstones and stepping stone. All these stones can be used in different manners.
For instance, cobblestone landscaping is usually done to make walls, and these are available in numerous colours like brown, black, buff, and blue and pink. People can choose any stone they like and use it in a different way. Landscaping stones have become increasingly popular so go ahead and buy them! Here are some ways to use them-
When you have a self-fulfilling water garden with a variety of compatible flora and fauna, you have created a healthy ecosystem in the water garden. Your water garden will be ecologically balanced and will be having a clean, environment friendly aquatic life. Use cobblestones to create a water body or fountain. The water quality and the clarity of the water garden will be self-sustaining due to this process. Remember that a water fountain can be self-sustaining but this shouldn't be your excuse to ignore cleaning and other maintenance activities.
Cobblestones – Garden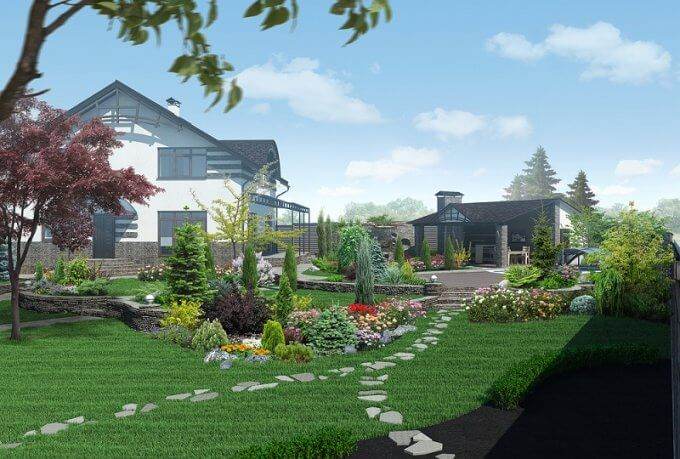 These are the classiest of the lot and surely the most expensive ones too. You can purchase one of the readymade cobblestones garden water fountains or choose to have one carved out by an efficient sculptor who can incorporate your personalized ideas. Be prepared to shell out the extra money in case you decide to buy a custom made stone garden water fountain instead of buying a readymade one. These stone garden water fountains are made from various leading types of stones which are well known for their sturdiness and longevity. You can make a real strong statement about your dedication towards beautifying your pond water garden by installing one of these stone garden water foundations.
Finally, owning a cobblestone garden is by no means a child's play. You will need to be ready to take up the financial burden associated with maintaining one along with ensuring that you are investing enough time, sincerity, and effort in ensuring its proper maintenance. You must also not ignore the need to accessorize your garden of dreams with the right fountains, lights and other accessories. Pay a visit to the local shop of pond supplies in order to ensure that you are up-to-date with the latest arrivals regarding pond water garden maintenance and beautification.
For more outdoor tips, check out how whicker lawn furniture can add a nice touch to your yard.
---
---
About the Publisher
Bo Kauffmann is a residential real estate agent with over 18 yrs experience in helping buyers and sellers achieve their goals.  Inducted into the
REMAX Hall of Fame
in 2010 and receiving the
REMAX Lifetime Achievement Award
in 2019, Bo has sold over 500 houses and
condo
s in the Greater Winnipeg market. He is an accredited buyer representative (A.B.R.) and a Luxury Home Marketing Specialist. Bo provides exceptional service to First-Time Home-Buyers, Seniors looking to downsize and Home Sellers of all ages. He can be reached easily
By E-Mail
or call/text him   
Call/Text Here
---
---
  Never miss an episode of our real estate podcast. Install our
FREE Podcast App
available on iOS and Android. For your
Apple Devices
, click here to
install our iOS App.
For your
Android Devices
, click here to
install our Android App.
Check my
videos on Youtube
Check out our Podcast