There are a number of ways to profit in Winnipeg's 'slow and steady' real estate market. One is to buy and flip houses, and another is buying rental properties.  In a slower market, this second method works well for those who are willing to take a longer position in their portfolio.  Not quick money, but steady income and an eventual windfall when you sell 5-10 yrs. down the road.
Buying Rental Properties: The long view
The idea is that initially, the investor is able to collect enough money to cover his expenses. Hopefully with a small profit at the end of each year. As the value of the home or condo increases, and rental rates increase along with it, the return improves over time. Then, a number of years down the road, the home should have increased by 15-25% in value. If the owner decides to sell, he will realize a nice profit at that time.
Lets take a look at some ways to calculate expenses of an investment condo, for example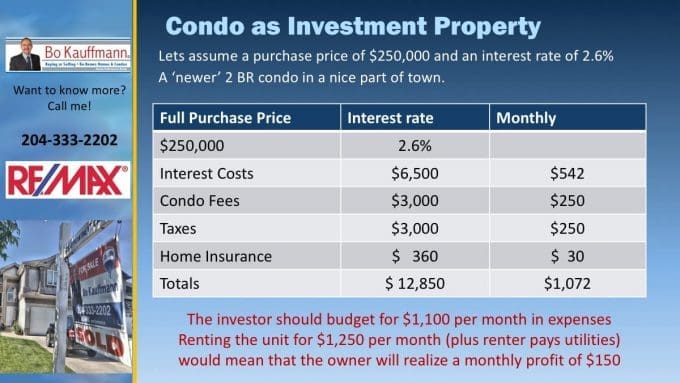 As you can see, a lot depends on those condo fees. In this example, the property owner may realize a monthly profit of $150, however he should also budget for temporary vacancies, any possible repairs or condo special assessments and other expenses.
The return is approx. 113% on their monthly investment of $1,100.  (not counting the potential sudden expenses just mentioned above)

So how about buying houses and using them as rental properties:
A client of mine owns a similar home and collects $1,500 per month in rent, plus the tenant pays for their own utilities.  Now we are looking at approx. $500 per month profit, or a return of approx. 150% on their $980 expense.
ADD_THIS_TEXT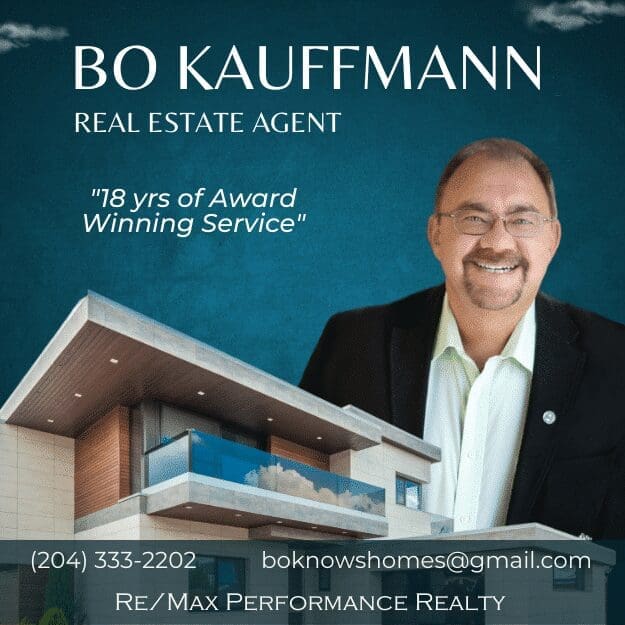 Rental Properties that are not pretty
If you can see past the rougher neighbourhoods, and are willing to settle for a 'not-so-pretty' house, your bank account might thank you for it!  Here are some actual numbers for a property coming to market soon: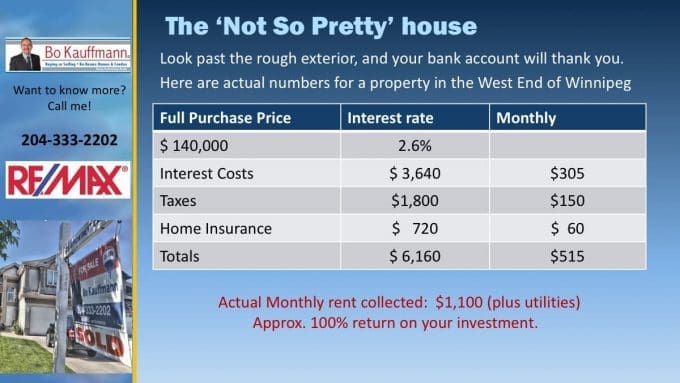 For the investor, these numbers are very encouraging.  Basically it amounts to 214% return on their low monthly investment.  Low outlay up front, and a great return in monthly rental income.  These lower-priced homes are excellent potential rental properties.
New Info (Late 2019)
[spp-ctabuttons]
For transcript of this presentation, click this down arrow  
[expand]
[00:00:02] Good morning Winnipeg, Bo Kauffmann here with Remax performance realty coming to you with a live Facebook event. I want to talk to you today about making money in real estate and there are really a couple of ways you can do that. Talk about really mainly one way. The first one is the fix and flip method. And that's what a lot of these TV shows are based on. And I'm not a big fan of that. I'll give you a couple of reasons why not. Remember that most of those TV shows are really based in Toronto and really hot markets. And it might work really quite well there because you can basically buy a house one month, hang onto for a couple of months without doing much to it and sell it for a profit two or three months later when the market really doesn't lend itself to that. If you find a house that just needs a bucket of paint you're really going to be up against people that are looking to buy that house to live in. And those people those that are looking, they're not looking for a quick profit, they're looking to hold the house for years and have a place to live. They're going to outbid you. So that's really not that easy. And the other the other way is if you buy a house that needs a lot of work like kitchen windows roof that will work to fix that up. [1:12.1]
[00:01:15] If you can do a lot of the work yourself if you don't hire out to another to other companies because if you have to hire roofers and window installers and flooring people and electricians and kitchen people then they're going to be making the money on on this flip, not you. So there's a lot of risk involved in fixing and flipping in a city like Winnipeg. [22.8]
[00:01:38] But there is another way to make money and what I call the buy, hold and rent method. So that's buying rental properties. Hang onto it for five 10 years have the tenant pay your overhead and the small steady income. Now I'll tell you right up front that this is not a get rich quick scheme. Unless you have 30 or 40 rental properties don't quit your day job. But it's a good way to get into it and have a small steady income and get your feet wet in investments. And that's what I'm going to talk about today. So if you have any questions feel free to post them in the questions in the comments below. I'll get to them at the end or at some point after if you're looking at this as a replay I will get your to your questions and I'll answer them. So let's let's take a look. I've got a couple of examples here. [52.4]
[00:02:35] OK let's let's just use a random example of a house that's actually listed in the south end of Winnipeg. Now this is another agent's listings we are not going to show a picture here. So I don't think I'm allowed to do it but it's an actual live listing and it's a very popular area, easy to rent out. It's about a 900 square foot bungalow with three bedrooms full fully finished basement and no garage but priced at about $300000. I can tell you that conservatively speaking you'll be able to get roughly around 1400 dollars a month for rent for a house like this. So let's do the math and see how that looks. [37.0]
[00:03:12] Three hundred thousand dollars. First of all it's going to require a down payment of $60000. That's 20 percent. If you're going to get into the investment game unless you're buying this as your first house or as your home you will need 20 percent down. So let's do the math. Three hundred thousand dollars. At 3 percent. And you'll see very quickly that I'm using very conservative numbers. You'll be able to get 2.6 2.7 percent. Heck if you leave it open it might even be able to get 2.2 percent. But let's just use 3 percent for round numbers $300000 mortgage and the next thing you're going to notice is if you're putting $60000 down you don't actually need a $300000 mortgage. But any investment advisor is going to teach you that the $60000 that you're putting down. It could be sitting somewhere else earning you money. So you should actually count that as an expense as well. [58.0]
[00:04:11] So that's why I'm using the full price of the house $300000 at 3 percent. It's going to cost you nine thousand dollars a year in interest and divided by 12 that's $750 a month. On top of that you're going to have to add property taxes and the taxes for this particular house are $3000 a year so that's another 250 a month. And the third thing you're going to need is home insurance property insurance. Let's just again go with the conservative number of twelve hundred dollars years that's $100 a month. So add them up 750 for the interest, 250 for the property taxes 100 for the insurance adds up to eleven hundred dollars. [40.6]
[00:04:52] Now one other comment is your mortgage payment is actually going to be higher than that because this calculates only the interest only your loss or your expense your investment cost is included here. Your mortgage payment may be another $400 or $500 over that but that money goes towards paying off your house. So that's not a loss. It's not a cost to you. It's like putting that 500 into a savings account because you're bringing down your loan your mortgage on that house. Now as I said $1400 a month for this house is conservative minus your eleven hundred. You're going to have an income of $300 a month. Like I said it's not a get rich quick scheme. Three hundred a month will work out to Thirty six hundred a year. And now you have to calculate also possible vacancy rates and repairs. House does need maintenance over the years maybe a new hot water tank. [56.4]
[00:05:49] Who knows how old the furnace is or new shingles paint landscaping whatever you need over the year. As I said it's not a get rich quick scheme but if you have a tenant in there paying your entire overhead even if a little bit of cash flow on top of that then five years from now or 10 years from now given a market increases that the way they have been you should be able to sell that house for maybe 320 $330000 and the entire cost throughout those years has been borne by your tenant. Now the interesting thing about this type of investment is actually the less the less money you expend, the better your return. Like if you buy a cheaper house you actually make a better return. So let's take another random example in the west end of Winnipeg and this is a small 700 foot house. It's got lots of upgrades. It's only got two bedrooms and a partial basement so the basement is not going to be usable for a living space. It's probably just a place where they have the furnace and the hot water tank and the electrical panel let's do the math on this it's $140000 list and I can tell you that these kind of houses will rent for around 11 hundred a month. So now we're looking at $140,000 cost. And again conservatively speaking if you pay the whole full asking price you may not have to but if you do your down payment is going to be $28000 the mortgage or the total cost of the House times 3 percent. Now you only looking at 4,200 a year or 350 a month. [1:32.2]
[00:07:23] In addition to that property taxes are much lower so they only work out to about $120 a month. And property insurance will probably be somewhat similar let's say $900 a month spend a year. So you add them all up 350 plus 120 plus 75 a month for the property insurance and it's up to 545 a month your rental income of eleven hundred dollars minus the 545 will levy an income of roughly 5 $555 a month. That's sixty six hundred dollars a year. That's actually a better rate of return on your investment minus of course again vacancy rate and repairs and any investment. I should say any investment does come with risks. So you have to make sure that you're comfortable with assuming any kind of a risk in any investment whether it's a GHC or whether it's a mutual fund or real estate. Now these two examples have been somewhat entry level prices. That's not to say that you can't make money and high end rentals as well. I recently sold a $450000 condo where the owner is going to be ending up getting around thirty eight hundred dollars a month from from a tenant. So there's money to be made in that in that end of the market as well. Now obviously if you don't have a real estate agent I'm available. Give me a call Bo Kauffmann, 204-333-2202. Again you have to be comfortable in assuming the type of risk that that's involved in making any investment and you have to have your downpayment ready in order to go shopping for this for this type of investment. [1:41.6]
[00:09:06] If you already have your agent, great: work with them if I can help you in any way to recommend a home insurance you're going to need other people such as a lawyer. home insurance etc. Property management company perhaps all these examples right now have been given I did not add the cost of having a professional property manager to step in and manage your day to day and month to month affairs and for about 110, $120 a month roughly. A property manager will do the background checks the credit checks and advertise your property and get people in there and handle all the money and the rent payments and the expenses and stuff like that. So if you need that I've got a good one on speed dial as well. Painters renovators new furnace people you name it. I can certainly be called upon to make a referral for some for some of those contacts. So call me anytime. Kaufman Remax performance at 204-333-2202. [1:00.2]
[00:10:11] Hope you've enjoyed that. As I said if you're looking at this as a replay anytime you have questions just type them into the comments below. This is going to be available on YouTube as well and I'll get notified when when there's a question coming up so I'd love to help you out. Again it's been Bo with Remax. Call me anytime you're looking to buy or sell in Winnipeg. Until next time. Bye bye. [20.5]
[10:29.5]
[/expand]
---
---
Please Follow Me On Social Media ????
Want the latest news, tips and fun updates?  Follow me on Pinterest, Instagram and 'like' my facebook page.  Also follow me on Twitter,  on Google+  and connect on LinkedIn.  I appreciate the show of support.❤
How to make money in real estate | Investing in real estate | How to buy rental properties | #RentalProperties #RealEstate #Investing
---
---
Rental Properties, Rental Properties Winnipeg, Buying Rental Properties With Cash, Finding Rental Properties To Buy, Guide To Rental Properties, Rental Properties 101
---
---
About the Publisher
Bo Kauffmann is a residential real estate agent with over 18 yrs experience in helping buyers and sellers achieve their goals.  Inducted into the
REMAX Hall of Fame
in 2010 and receiving the
REMAX Lifetime Achievement Award
in 2019, Bo has sold over 500 houses and
condo
s in the Greater Winnipeg market. He is an accredited buyer representative (A.B.R.) and a Luxury Home Marketing Specialist. Bo provides exceptional service to First-Time Home-Buyers, Seniors looking to downsize and Home Sellers of all ages. He can be reached easily
By E-Mail
or call/text him   
Call/Text Here
---
---
  Never miss an episode of our real estate podcast. Install our
FREE Podcast App
available on iOS and Android. For your
Apple Devices
, click here to
install our iOS App.
For your
Android Devices
, click here to
install our Android App.
Check my
videos on Youtube
Check out our Podcast