If you're thinking of selling your house or condo, and do not know a real estate listing agent, you're likely going to interview a couple of REALTORS®.  Here is a list of 10 questions to ask them BEFORE you hire them.  Plus one question you should NEVER ask.
However, how do we pre-select the listing agent in the first place?   Here are a couple of tips to get you started:
1. Ask a friend or relative for a recommendation
Odds are that you know someone who has used a Listing Agent in the past year or two.  Were they happy with that agent?  Ask them for blunt and frank feedback on how the sale of their home went.
2. Check the local Better Business Bureau
Some Listing Agents in Winnipeg are accredited by the Better Business Bureau.  Check their reviews, and complaints and customer feedback.
3. Check Google Reviews of real estate Listing Agents
Here you have to be a little careful.  Some older reviews may have been submitted anonymously, and may therefore be either unrealistically bad or over-the-top great.  When you check Google Reviews, make sure they are legitimate, submitted by real people who took the time and care to identify themselves.

Using these methods, you should be able to narrow the field from the hundreds of Listing Agents down to one or two you might interview.  By the way, some articles advise to interview any number of agents.  Doing so will often lead to confusion and un-healthy 'over-promising' by agents.  Remember that you hire your Listing Agent by what he/she will DO, not by what they promise or predict.
Now let's say that you have come up with a potential agent, here are the 10 questions you should ask him/her.
10 Questions Before Your Hire a Listing Agent
How long have you been in the business?
Where do you advertise my

home

?
Who will photograph my

home

?
Do you have a website?
Are you active on Social Media
How many homes do you sell in a year?
If something goes wrong, who will I be dealing with?
Is this your full-time occupation?
How can I reach you?
What is your commission rate?
1) How long have you been in the business?
Reason for asking: With the lure of 'quick and easy money' (believe me, its NOT), every one with a few spare dollars and some extra time has decided to get into real_estate">real estate.  The joke is that in some States, liquor stores will accept, as forms of identification, your drivers license or your real estate license.  I sometimes compare a Listing Agent to a Restaurant:  Out of every 10 that start up, only 1 is still around after 2 years.
Answer to look for:  Minimum of 4 years experience.
2) Where do you advertise my home?
Reason for asking: Nearly every Real Estate Listing Agent uses the MLS®.  Its a powerful way of getting your house noticed by buyers and other agents.  But its not the ONLY way.  Recent studies show that between 80% to 87% of home buyers start their search on the internet and one study shows that only 1-in-3 use the MLS® as their primary tool.
So the answer you should be looking for includes not only the MLS®, but extensive internet presence.  
3) Who will photograph my home?
Reason for asking:  A lot of agents try and cut corners by whipping out the cell phone and taking a few shots.  Don't think thats true?  Google the phrase "Bad photos on the MLS" and sit back with some popcorn…..you'll be entertained.
The right answer is:  "I have a specialist who takes all my listing photos for me."
4)  Do you have a website?
Reason for asking:  This goes hand-in-hand with the previous question.  With such a high percentage of people looking on the internet, your Real Estate Listing Agent should have an effective website.  I'm constantly amazed at how many agents don't even have a simple site, let alone a professionally managed, search engine optimized site.
Answer to look for here is a definite YES, with some explanation of how effective the site is, Google ranking, Alexa ranking etc
5) Are you active on Social Media?
Reason for asking: thats where the buyers are.  Does your prospective agent interact with those potential buyers?
Answer to look for: " Yes, here is my facebook page, my twitter account, my youtube channel, my pinterest account….. etc.
6) How many homes do you sell in a year?
Reason for asking:  goes to experience.  Find you how many homes the average real estate listing agent in your town or city sells and then compare.  Average is ok, but more experience is better.  On the opposite end of the scale, if your prospective listing agent always carries in excess of 15 or 20 listings, how much time will he or she have to work on your home?
In the answer, look for a nice balance.
7) If something goes wrong, who will I be dealing with?
Reason for asking:  Many a Real Estate Listing Agent runs a 'team', and the only time you'll actually be dealing with him is during your initial interview.  And trust me…something WILL go wrong.  Perhaps as little as spelling mistakes or poor picture quality in your listing, or it could be more significant such as the wrong price shown in the listing.  Or perhaps you'll just have some questions about feedback from the last showing.  In all likelyhood, you will want to talk to someone about your listing, so make sure that you know who you're going to be dealing with.
The preferred answer here : "If any issues come up, you call ME directly anytime.  You're NOT going to be talking with my secretary, my assistant or my butler….  here is my cell number, it goes directly to ME".
8) Is this your full-time occupation?
Reason for asking: In many jurisdictions, it is NOT a requirement that a Real Estate Listing Agent practice his craft full-time.  There are many places (now including Winnipeg) where your Real Estate Listing Agent could work on your file during the day, and then serve your meals at the local restaurant at night.
Answer to look for: YES!  Don't list with a real estate listing agent who might have to choose between showing your home and picking up an extra shift at the local Piggly-Wiggly for some fast cash.
9) How can I reach you?
Reason for asking:  Chances are you will need to talk with your real_estate">real estate listing agent, to ask him questions or to get updates.
Make sure he or she has a cell phone, pager, e-mail and any number of ways for you to contact them.
10) What is your commission rate?
Like anything else in life, you get what you pay for.  Make sure that the cut-rate commission doesn't also cut the most important parts of the service, such as advertising and ongoing support.
Question to Avoid asking your prospective Listing Agent: What Do YOU Think My Home Is Worth?
Reason to avoid this during the selection process:  The most desperate (and sometimes least competent) agent will often quote the highest price, just to get the listing.  The discussion of "What should we list our home for?" should be left between you and the listing agent AFTER you have made your selection.
Please don't worry:  as the home owner, you're the boss and its up to you to set the asking price.  But asking this question of several prospective agents will divert focus from what really matters: What an agent DOES for you, NOT what he/she predicts will happen!
See also 15 Reasons to hire a listing agent.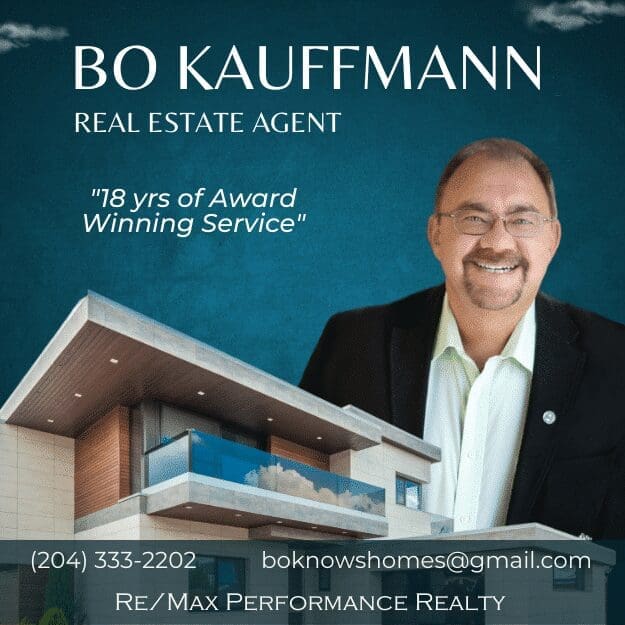 ---
---
About the Publisher
Bo Kauffmann is a residential real estate agent with over 18 yrs experience in helping buyers and sellers achieve their goals.  Inducted into the
REMAX Hall of Fame
in 2010 and receiving the
REMAX Lifetime Achievement Award
in 2019, Bo has sold over 500 houses and condos in the Greater Winnipeg market.  He is an accredited buyer representative (A.B.R.) and a Luxury Home Marketing Specialist.   Bo provides exceptional service to First-Time Home-Buyers, Seniors looking to downsize and Home Sellers of all ages.   He can be reached easily   
By E-Mail
or call/text him   
Call/Text Here
---
---
  Never miss an episode of our real estate podcast. Install our
FREE Podcast App
available on iOS and Android. For your
Apple Devices
, click here to
install our iOS App.
For your
Android Devices
, click here to
install our Android App.
Check my
videos on Youtube
Check out our Podcast