How much Mortgage can you afford on your income?
.
Most buyers realize that, before going shopping for a new home, they need to be pre-approved by a reputable lender.  Whether a bank, credit union or mortgage broker, the financial lender should do a proper credit check and offer the prospective buyer a "Pre-Approval Letter", showing the fact they are pre-approved, and possibly even stating the maximum dollar-value of the mortgage.
But for those buyers who are simply curious as to what type and size of home they can afford on their current income, we assembled this little sample list with the help of Kelly Mitchell of Invis Mortgage Brokers.
In her calculations, Kelly assumed a credit rate of 3.10%  (NOTE:  This is an assumption for this example only.  LOWER rates MAY be available, depending on your credit rating and other factors)
Other assumptions include an average heating bill of $100 per month, and net taxes ranging from $1,500 to $3,300 a year, gradually increasing along with the income levels.  IE: Lower income is assuming a lower-priced house, while the high income is assuming a higher priced property).   All calculations are based on a 25-yrs amortization.

Quick-Poll
[socialpoll id="2153093″ type="set"]
Approximate Ratios
You can see in the graph below that a gross annual income of $40,000 might qualify the buyer for$175,900 mortgage,  while a $90,000 income may qualify the buyer for a $423,000 mortgage.
NOTE: PLEASE DONT RUSH OUT AND BUY A HOUSE OR CONDO BASED ON THIS GRAPH….. INSTEAD, OBTAIN A PROPER PRE-APPROVAL FIRST!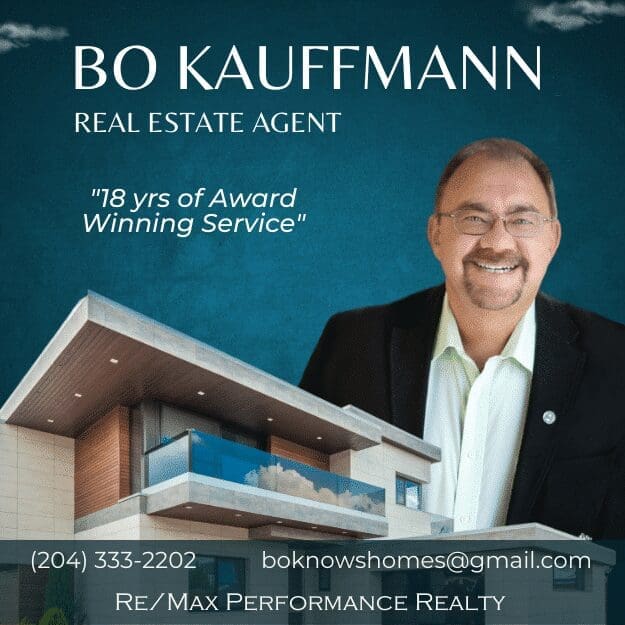 Here is your down-loadable PDF version:  IncometoMortgageConversion
Keep in mind, please, that buying a home is probably the biggest and financially most important step you'll take.  Buying real estate should be a team effort, where the buyer utilizes the services of a number of professionals.   If and when you are ready, begin by  contacting a real estate agent , who can then recommend many of the other services you will need.
---
---
About the Publisher
Bo Kauffmann is a residential real estate agent with over 18 yrs experience in helping buyers and sellers achieve their goals.  Inducted into the
REMAX Hall of Fame
in 2010 and receiving the
REMAX Lifetime Achievement Award
in 2019, Bo has sold over 500 houses and condos in the Greater Winnipeg market.  He is an accredited buyer representative (A.B.R.) and a Luxury Home Marketing Specialist.   Bo provides exceptional service to First-Time Home-Buyers, Seniors looking to downsize and Home Sellers of all ages.   He can be reached easily   
By E-Mail
or call/text him   
Call/Text Here
---
---
  Never miss an episode of our real estate podcast. Install our
FREE Podcast App
available on iOS and Android. For your
Apple Devices
, click here to
install our iOS App.
For your
Android Devices
, click here to
install our Android App.
Check my
videos on Youtube
Check out our Podcast