Before crossing all the T's and signing on the dotted line, there are a few things you need to consider. Being a first-time homebuyer means you've got a lot of responsibility on your hands. Owning property is definitely an accomplishment; however, you want to choose the right location and know how to maintain it. Read on to learn more about problems first-time homeowners should look out for.
Discolored Walls
Sometimes a discolored wall is just a discolored wall, but there are times when it means so much more. If the current home you're looking to purchase has discoloration in the walls and ceilings, don't assume it's a bad paint job. This is your first time, so people expect you to ask questions.
Your questions might lead to a water damage discovery. You don't want to put your money into something that will cost you more than the investment is worth. Be curious about the state of every home you look at and ask about its history.
Foundation Cracks
Foundation cracks can be devasting. You never want to move into a home that's on shaky ground – so to speak. Inspect the walls, ceilings, flooring, and door frames for every walk-through. These are the areas where you'll notice signs of foundation damage.
If you see any cracks, gaps between the doors, or uneven floors, you really want to have someone come out to conduct a homeowners foundation checklist. They will tell you exactly what the problems and solutions are.

Long on the Market
How long has the house been on the market? More importantly, why? If a property is having a hard time selling, there's a reason why. Don't be quick to submit an offer without doing thorough research first. Look at the starting date and get curious.
Ask questions about areas of the house you notice need improvement. Sometimes the extended timeline has nothing to do with the asking price but everything to do with the state of the home. Don't get fooled into buyer's remorse.
High-Interest Rates
First-time homeowners make a lot of mistakes. They fixate on the neighborhood rather than the home, open a new credit card before buying, and some even drain their savings. All of these steps are bad, and you should steer clear.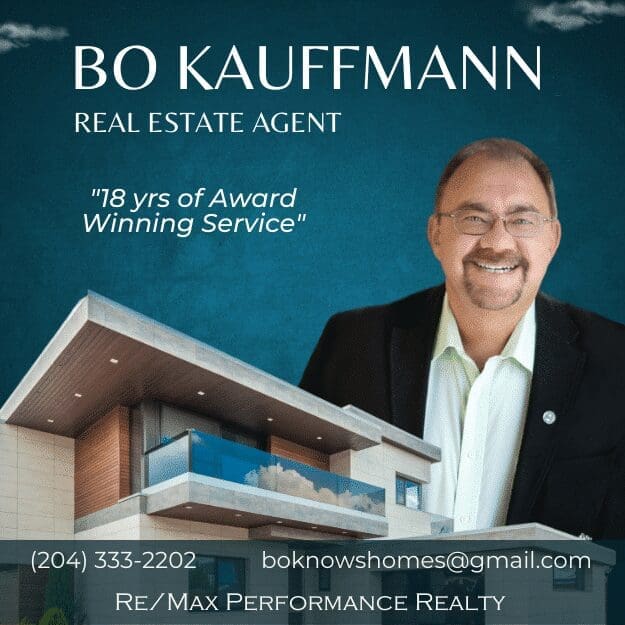 If you're about to purchase your first luxurious home, you'll want to do a few different things, but looking at that interest rate is essential. Try and avoid high-interest rates because there is no guarantee it will work out in your favor. Go for a price that's within your range.
You don't want to be that first-time homeowner with a serious problem on their hands because they didn't know the warning signs and problems to look out for. Use our tips to ensure your first-time homebuying experience is seamless and successful!
---
---
About the Publisher
Bo Kauffmann is a residential real estate agent with over 18 yrs experience in helping buyers and sellers achieve their goals.  Inducted into the
REMAX Hall of Fame
in 2010 and receiving the
REMAX Lifetime Achievement Award
in 2019, Bo has sold over 500 houses and
condo
s in the Greater Winnipeg market. He is an accredited buyer representative (A.B.R.) and a Luxury Home Marketing Specialist. Bo provides exceptional service to First-Time Home-Buyers, Seniors looking to downsize and Home Sellers of all ages. He can be reached easily
By E-Mail
or call/text him   
Call/Text Here
---
---
  Never miss an episode of our real estate podcast. Install our
FREE Podcast App
available on iOS and Android. For your
Apple Devices
, click here to
install our iOS App.
For your
Android Devices
, click here to
install our Android App.
Check my
videos on Youtube
Check out our Podcast