Spotlight on: District 110 Condominiums
Located in the heart of the Exchange District (east of Main St) on James Ave,  we find this gorgeous brick building, built in the early 1900's.  Close to the baseball park, the new Human Rights Museum and theatres.  Completely renovated by Streetside Development around 2014.
Year Built:  1910
Total Condos:
The building has a total of 19 condo units, ranging in size from a 625 sq ft bachelor units to 725 sq ft 1 BR condos and also 2 BR units over 1100 sq ft.
Condo Restrictions:
Just the usual condo-restrictions, such as "No Laundry to be hung from the balcony" etc. Pets are allowed, so long as they don't pose a nuisance to other owners.  Owners are allowed to rent out their suites, however must assure that their tenants abide by all rules.
Property Taxes
Gross Property Taxes range between approx. $2400.00 per unit for the smaller bachelor units, to $3,600 for the 1100 ft + sized units.  Of course, as an owner who actually lives in their unit, you would qualify for the Provincial Home Owners Assistance Rebate, similar to when you own a house.
Condo Fees
Condo fees range between $375 and $725 per month, which includes snow removal, property maintenance, water and management fees, and also HEAT, C/Air, and electricity. Condo fees sometimes give Condos a 'bad rap'… here is a realistic comparison of condo fees to 'normal' house ownership expenses.

Laundry and Parking
All units have their own in-suite laundry. Parking is available in the surrounding neighbourhoods and various parking lot locations.
Location
Very central location, this condo is close to the theatre district, the ballpark, the new Canadian Museum of Human Rights, the Winnipeg Symphony Orchestra, Theatres and more. You'll find restaurants close by.
Prices
During the 2 yr period of 2016-17, bachelor units have sold for the low $170;s,  1-BR units have sold between 200-235K, and the larger units have sold bet. $285-$310K.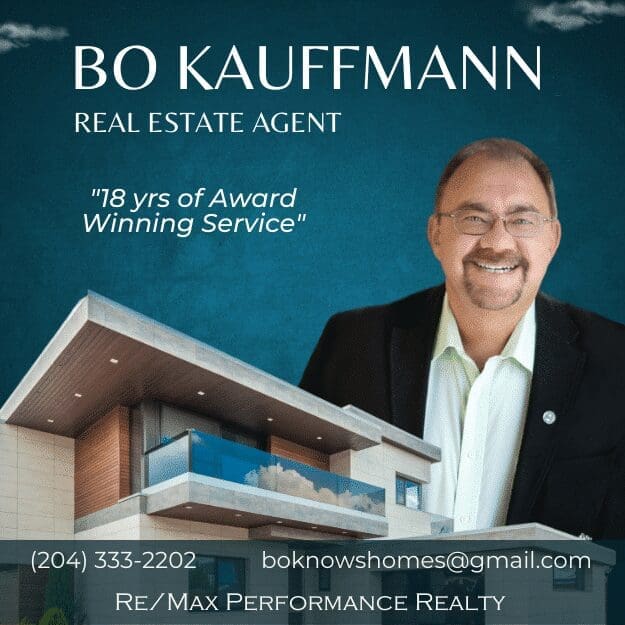 If you're in the market to buy a condo, whether at District 110 Condos or anywhere else, please contact me anytime…. "Bo Knows Condos"
If you're thinking of selling your condo, anywhere in the city, please contact me anytime.
---
---
Please Follow Me On Social Media ????
Want the latest news, tips and fun updates?  Follow me on Pinterest, Instagram and 'like' my facebook page.  Also follow me on Twitter,  on Google+  and connect on LinkedIn.  I appreciate the show of support.❤
Loft Style Condos in Winnipeg's Exchange District | District 110 Condominiums
---
---
---
---
About the Publisher
Bo Kauffmann is a residential real estate agent with over 18 yrs experience in helping buyers and sellers achieve their goals.  Inducted into the
REMAX Hall of Fame
in 2010 and receiving the
REMAX Lifetime Achievement Award
in 2019, Bo has sold over 500 houses and condos in the Greater Winnipeg market.  He is an accredited buyer representative (A.B.R.) and a Luxury Home Marketing Specialist.   Bo provides exceptional service to First-Time Home-Buyers, Seniors looking to downsize and Home Sellers of all ages.   He can be reached easily   
By E-Mail
or call/text him   
Call/Text Here
---
---
  Never miss an episode of our real estate podcast. Install our
FREE Podcast App
available on iOS and Android. For your
Apple Devices
, click here to
install our iOS App.
For your
Android Devices
, click here to
install our Android App.
Check my
videos on Youtube
Check out our Podcast