Moving Checklist for home and condo buyers
.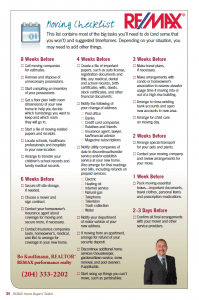 If you've just bought a house or condo, chances are your 'moving date' is about 6 – 10 weeks away.  Now is the time to start preparing for your move.  For an outline of some of the activities you'll need to perform, and some of the contacts you'll need to make, read "Just bought a home!  Whats Next?"
But here you'll find a handy check list to help keep you on track and prepared for the big day.  You can download this list as a PDF by clicking the download button at the bottom of the list.
Home Moving Checklist by Bo Kauffmann
Related articles
Listen to the latest Podcast Episode
Podcast available on most pod-listeners.