Spotlight on: Cambridge South Condos
Located approx. 1 block from he Pan Am Pool, you'll find Cambridge South condos at 870 Cambridge St. In a Winnipeg neighbourhood called River Heights South.
Condo Building Quick-Facts
Year Built:  ca. 1969

Condo

Style:  Apartment Style, one building
Managed by:  Linden

Real Estate

(in 2019)
Number of Condo Units:
81 suites on 9 floors.  1 and 2 BR units ranging in size from 690 ft to 980 ft.  Most of the units are either 700 ft or 850 ft, but some of the end units are larger, between 935 and 980 sq ft.
Condo Restrictions:
In addition to the usual condo-restrictions, such as "No Laundry to be hung from the balcony" etc., Pets are not allowed. No cats or dogs.  Renting of the suites IS permitted.
Property Taxes
Gross Property Taxes range from $1,900 to $2,600 depending on size of the suite.
Condo Fees
Condo fees range between $380 and $530 per month, again depending on unit size.  These fees include the following,

Heat
Electricity
Water
Cablevision
Caretaker Services
Contribution to Reserve Fund
Parking is EXTRA
Laundry and Parking
None of the suites have in-suite laundry.  There is a common laundry room on the main floor, so no laundry rooms on each floor in this building.  On the plus side, the laundry room on the main floor is spacious, bright, and equipped with 12 newer machines (6 each Washer and Dryer), as well as a separate sitting/reading area.
Plenty of outdoor parking spots, rented at $43 per month.  There are some spots which are under the building 'overhang', so these covered spots are rented at $48 per month.  There is a waiting list for these covered spots.  No underground parking available in this building
Amenities of Cambridge South
This building has a small gym, equipped with a handful of bikes and treadmills.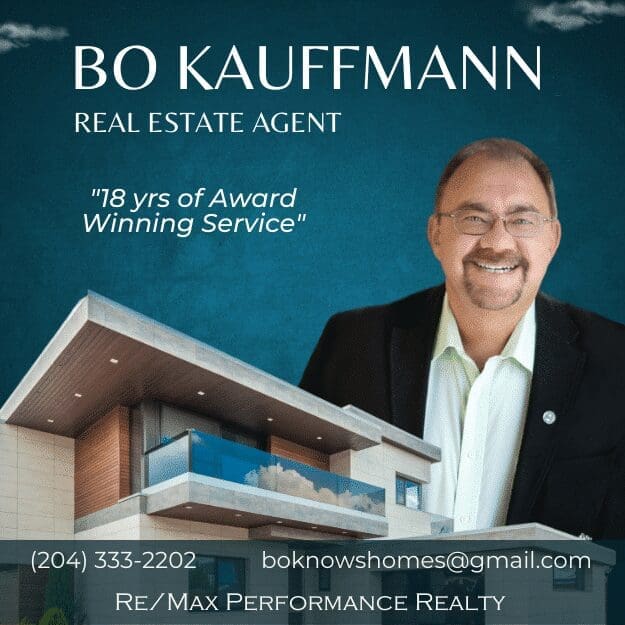 Prices
During the 2 yr period of 2018-19, condos have sold for as low as $115,000 for a real fixer-upper, to $180,000 for a larger 2 BR, 2 Bath end unit.  On average, a 1 BR goes for around $140-150K  and the 2 BR units in the 160-165K range.  
If you're in the market to buy a condo, whether at Cambridge South Condos or anywhere else, please contact me anytime….   "Bo Knows Condos"
Location of Cambridge South Condo
[show_nearby_places place_id='2′]
---
---
About the Publisher
Bo Kauffmann is a residential real estate agent with over 18 yrs experience in helping buyers and sellers achieve their goals.  Inducted into the
REMAX Hall of Fame
in 2010 and receiving the
REMAX Lifetime Achievement Award
in 2019, Bo has sold over 500 houses and condos in the Greater Winnipeg market.  He is an accredited buyer representative (A.B.R.) and a Luxury Home Marketing Specialist.   Bo provides exceptional service to First-Time Home-Buyers, Seniors looking to downsize and Home Sellers of all ages.   He can be reached easily   
By E-Mail
or call/text him   
Call/Text Here
---
---
  Never miss an episode of our real estate podcast. Install our
FREE Podcast App
available on iOS and Android. For your
Apple Devices
, click here to
install our iOS App.
For your
Android Devices
, click here to
install our Android App.
Check my
videos on Youtube
Check out our Podcast