Real Estate Market Update for Winnipeg, November 2014
.
Welcome to the November 15th real estate market update for Winnipeg.  This report focuses on the statistics as they are on the 15th of each month (as opposed to the 1st).  House sales are reported in three price ranges, as follows: Entry level homes are from 100K to 250K, mid-range properties are from 250K to 500K, and Luxury Homes are those over 500K.  The main focus is on Winnipeg properties, but we do include E. St. Paul and Headingley as well.
I also report on 'Inventory Levels', which is a way of answering the question:  If no one else listed their properties, how long would it take to sell everything that's available now?  The lower the number, the hotter the market.  The new report will show the Inventory Levels as number of DAYS, instead of fractions of a month……it just makes it easier to read.   So lets see how the real estate market is looking in mid November 2014:
Overview of the Winnipeg Market in mid-November 2014
In the past month, the most expensive home sold was for $1,260,000 in the Headingley, while the most luxurious condo sold for $1,750,000 on Wellington Cr..   On November 15th, there are a total of 1540 house listings (down significantly from he previous month at 1827)  and 580 condo listings available in the Winnipeg market area.   In the past month, 769 NEW  House-Listings came to the market (down from 1063 last month), in addition to another 234 fresh condo listings (up slightly from 222 in October).  Overall sales of houses was 472 homes sold,   down slightly from the 593 sold in Octobers report, with an additional 82 condos sold in the same time period (down from 111 last month).  Also, a whopping 577 listings expired or were withdrawn in the past 31 days, up from 545 in the previous report.
Entry Level Houses ($100,000 to $249,999)
Currently, we have 553 homes available in this price range, down from last month (679).  Over the past month, Winnipeg REALTORS® have sold 226 of these types of homes, (255 previous report).  Therefore, inventory levels are at 76 days.
Mid-Range Houses ($250,000 to $499,999)
Bidding Wars for select homes are still happening!
#Winnipeg now has a whopping 717 homes in this range, down slightly from the 841 houses available in the previous report.  Over the past month, sales have slowed down in this price range, dropping 220 homes sold (compared to 316 in October).  Our inventory level is now at 101 days (up from 80).
Luxury Homes ($500,000 plus)
We currently have 234 homes listed in this price range (down from 264 in Octt.) and we have sold 26 luxury homes in the past 31 days.  Inventory levels decreased to 279 days, down from  360 in the previous month.  When compared to the other price ranges, this is still a significantly slower segment of our market, …….making this a great time to look for that 'dream house' in the luxury market. #Luxuryhomes
Condominiums
Currently, condominium listings in Winnipeg are at 580 (including approx. 150 'to-be-built' units)  These unbuilt condos, which are being placed on the MLS, are somewhat skewing the data, but nevertheless, there is an abundance of condo units available for sale at this time.
Is the Condo-Market in Winnipeg at a saturation point?
Over the past month, Winnipeg REALTORS® have sold 82 condos, changing inventory levels to now sit at 219 days.   Read why I believe Winnipeg's condo market is reaching saturation point.  #Condominiums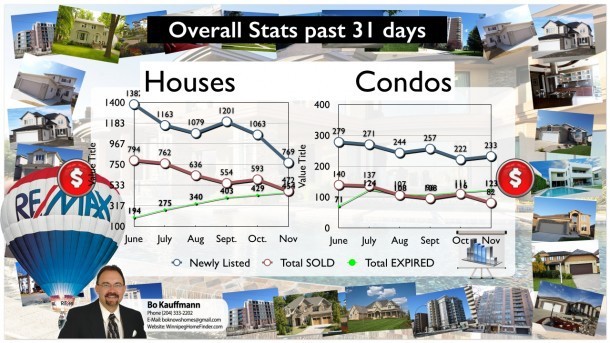 Summary:
In my opinion, we are currently experiencing a buyers market.  WILL IT LAST??    This 'buyers market' may only be a short lived one.  Don't wait til spring to possibly find yourself in another sellers market.  Act Now!
If you are looking to buy or sell, a house or a condo in Winnipeg, please call me anytime:  Bo Kauffmann, Remax Performance Realty, direct at (204) 333-2202
Subscribe to my podcast in any of these ways