Check List to complete before you travel
.
If you're an adventure-seeker like Indiana Jones, maybe you're planning to spend your vacation touring the Jordanian desert on horseback, or searching for lost Incan treasure in the jungles of Peru, or perhaps you'll slow things down by escaping to a white-sand beach in the Dominican. Wherever you plan your next adventure, make sure to follow this checklist:
• Tell a trusted friend or family-member about your plans and ask them to keep an eye on your place while you're away
• Secure your home and turn off the water
• Cancel the newspapers
• Forward or stop mail delivery
• Make photocopies of your travel and personal documents for yourself and the trusted friend or family-member as a precaution
• If you're driving to your destination, find out if you need supplemental car insurance
• Find out if you need to update your shots
• Let your bank and credit card company know about your travel plans to avoid any confusion or service disruption
• Most important, buy travel insurance!
Travel Insurance
Interestingly, a recent survey on travel insurance conducted by Desjardins Financial Security found that close to one in four Canadian travelers aren't planning on purchasing travel insurance. And that's despite the fact that 91% agreed that their personal safety is vitally important when they travel.
"If safety is important to Canadians, it's not clear why so many do not properly prepare for the unexpected when they travel," said François Morel, insurance sales consultant with Desjardins Financial Security. "For example, treating an uncomplicated lower leg or arm fracture in a US hospital could cost well in excess of $10,000 for an uninsured patient. Removal of the appendix, another common and unpredictable procedure, costs an average of $33,000."
"Regardless of whether you're out of the country for a day or for several weeks, accidents or illnesses happen all the time and it's best to be prepared," said Morel. "Hospital stays abroad can reach into the tens of thousands of dollars. So, it's best to take a few minutes to buy reliable travel insurance coverage."
Here are some things to remember when buying travel insurance:
It's convenient: It can be bought on the internet or by phone.
It's flexible: You'll find the right policy that suits your needs based on your age, health situation and trip duration.
It's reliable: Coverage provides 24/7 medical assistance support so you know you can count on someone in case of an emergency.
https://blog.winnipeghomefinder.comJanuary 13, 2013 9:38:28 AM CST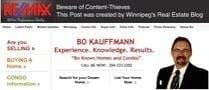 Eight super restaurants in Downtown Winnipeg . Trying to choose a restaurant, café, pub, or bakery? These eight are some of the best in downtown Winnipeg! Sensi Wine Lounge Located above Tre Visi in the Theatre District, Sensi is a chic restaurant with fantastic décor. Sensi offers small sharing plates with Italian flavours and an […]
The post 8 excellent restaurants in downtown Winnipeg appeared first on Winnipeg's Real Estate Blog.
---
---
About the Publisher
Bo Kauffmann is a residential real estate agent with over 18 yrs experience in helping buyers and sellers achieve their goals.  Inducted into the
REMAX Hall of Fame
in 2010 and receiving the
REMAX Lifetime Achievement Award
in 2019, Bo has sold over 500 houses and
condo
s in the Greater Winnipeg market. He is an accredited buyer representative (A.B.R.) and a Luxury Home Marketing Specialist. Bo provides exceptional service to First-Time Home-Buyers, Seniors looking to downsize and Home Sellers of all ages. He can be reached easily
By E-Mail
or call/text him   
Call/Text Here
---
---
Our Latest Web-Stories
Never miss an episode of our real estate podcast. Install our
FREE Podcast App
available on iOS and Android. For your
Apple Devices
, click here to
install our iOS App.
For your
Android Devices
, click here to
install our Android App.
Check my
videos on Youtube
Check out our Podcast