Buying an Investment Condo? 4 things to look for!
A friend of mine had called me some time ago, and asked me to give him a Market Evaluation on his investment property in #Winnipeg. Turns out he had purchased a small condo about a year before, and had done so 'privately', without the use of a real estate agent, a decision he now regretted for several reasons. As we were talking about his investment property , my mind went over the top features any investor should be looking for when purchasing a condominium.
Location, Location, Location
You've heard this before. The top three most important things in #realestate are….well, you know. Its no different when purchasing an investment #condo, or a condo for your own personal use. Will it be easy to resell, or does the location hamper your re-sale efforts? If you're going to rent it out, is the condo located near public transportation routes? Is the neighbourhood safe? Many factors come into play.
Top Condo Rental Upgrades with the Highest Investment Returns https://t.co/OmRnQsjD2G pic.twitter.com/mLoImDbCgU

— VIP Condo Brokers (@VIPcondobroker) December 22, 2016
Parking
Parking, especially in central locations such as downtown, is always at a premium.  Even if you are lucky enough to rent out your investment property to someone who does not drive their own vehicle, reselling a condo without its own parking spot is more difficult.
Balcony
With several apartment-to-condo conversions underway, it's easy to forget that a balcony is still one of the most important features requested by buyers. Without a spot to sit outside, perhaps read a book in the fresh air or throw some beef on the 'que, owners and renters will feel trapped inside their condo. Make sure your investment condo has a balcony or, if located on the main floor, it has a patio space.
In-Suite Laundry
Less important with single men, but in-suite laundry is almost 'vital' to female condo buyers and renters. Having a secure place to do your own laundry is, at the very least, a 'nice to have' feature. Sometimes, a condo which has no in-suite laundry is at least able to add this feature later on, so you may want to check into this possibility.

The above 4 features are perhaps the most important ones to consider.  Depending on your price range, you may want to consider several more:
Bonus: Concrete Building
Usually a little more expensive, but well worth the price.  Quieter, more solid and stable, an investment property with concrete floors and walls will also make for easier resale.
Bonus: Central Air
Central air conditioning and heating is another nice-to-have feature, making the condo more comfortable and easier to rent out.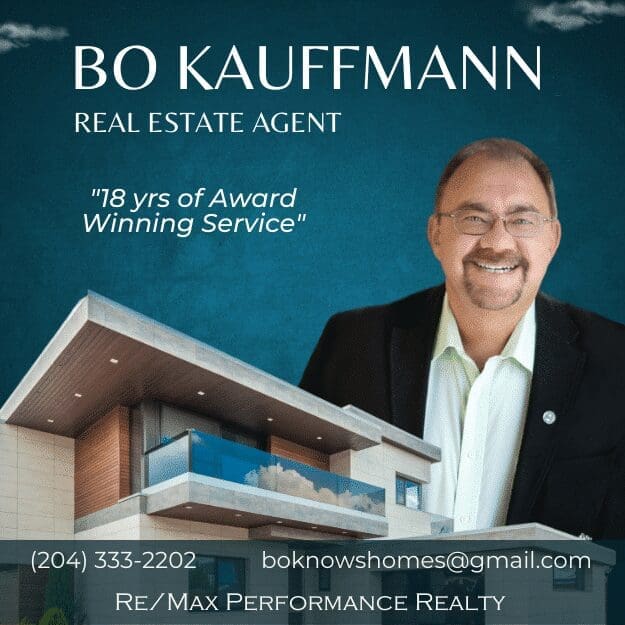 Bonus: Secure Parking
Especially with our winter climate, having underground or indoor parking is an often-requested feature, albeit at a price premium
Back to my friend:  His private purchase ended up being a very poor deal, as his investment condo had NONE of these features.  Located in a rough part of town, no parking spot, no balcony, no in-suite laundry and on the 3rd floor with no elevator will make this a very tough sale, even in a hot market.
Moral of the story: If you're going to invest some serious money into real estate, call a real estate agent BEFORE you plunk down the cash.  I would much rather guide you in the right direction, than try to help correct a mistake already made.
If you're thinking of buying an investment property, call me first.
Bo at 204-333-2202
Would you like to download this information as a PDF?
Listen to this post
[spp-player url="http://traffic.libsyn.com/bokauffmann/InvestmentCondoFeatures.mp3″]
---
---
---
About the Publisher
Bo Kauffmann is a residential real estate agent with over 18 yrs experience in helping buyers and sellers achieve their goals.  Inducted into the
REMAX Hall of Fame
in 2010 and receiving the
REMAX Lifetime Achievement Award
in 2019, Bo has sold over 500 houses and condos in the Greater Winnipeg market.  He is an accredited buyer representative (A.B.R.) and a Luxury Home Marketing Specialist.   Bo provides exceptional service to First-Time Home-Buyers, Seniors looking to downsize and Home Sellers of all ages.   He can be reached easily   
By E-Mail
or call/text him   
Call/Text Here
---
---
  Never miss an episode of our real estate podcast. Install our
FREE Podcast App
available on iOS and Android. For your
Apple Devices
, click here to
install our iOS App.
For your
Android Devices
, click here to
install our Android App.
Check my
videos on Youtube
Check out our Podcast