Home Staging Tip: Depersonalize your home before putting it up for sale
.
In part 3 of the series on Home Staging by Remax, we take a look at the need to depersonalize the home.  Since the owner has likely lived in the home for a number of years, it has taken on his personality, displaying his photographs, trophies and furniture, along with his personal choices in colors and accents.
A buyer, coming to view the home, needs to be able to 'visualize' themselves in the home, and this become difficult if the buyer is overwhelmed with a multitude of personal items exhibiting the sellers personal life and tastes.
In order to help the potential buyer in their decision, home sellers are well advised to:
Remove family photos and keepsakes
Remove personal trophies
Remove potentially offensive items  (Hunting trophies such as bear-skins, etc)
When you are ready to sell your home, please call me first…  Bo Kauffmann  204-333-2202  or email me at [email protected]

Watch the short video on Depersonalizing your home
Related Stories
blog.winnipeghomefinder.com10/7/12
Home Staging Tip #1 – Winnipeg's Real Estate Blog. How a successful home stager can help sell your home blog.winnipeghomefinder.com9/23/12. Staging your home or condo before sale may be advisable. Video tips on …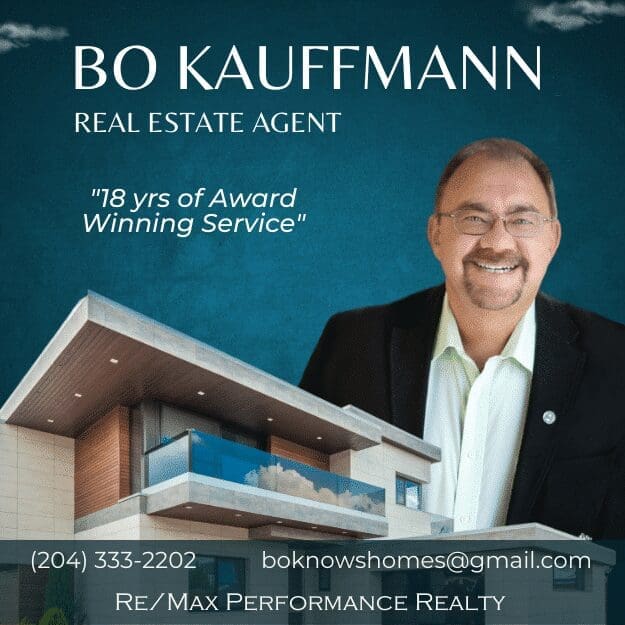 Many people have a "bucket list" of events and locations they'd like to experience in life; I have a bucket list of architectural elements I hope to have in future homes throughout my life. At the top of my list is a porte cochere (pronounced "port-co-SHARE"), a portico-like structure attached…
---
---
About the Publisher
Bo Kauffmann is a residential real estate agent with over 18 yrs experience in helping buyers and sellers achieve their goals.  Inducted into the
REMAX Hall of Fame
in 2010 and receiving the
REMAX Lifetime Achievement Award
in 2019, Bo has sold over 500 houses and condos in the Greater Winnipeg market.  He is an accredited buyer representative (A.B.R.) and a Luxury Home Marketing Specialist.   Bo provides exceptional service to First-Time Home-Buyers, Seniors looking to downsize and Home Sellers of all ages.   He can be reached easily   
By E-Mail
or call/text him   
Call/Text Here
---
---
  Never miss an episode of our real estate podcast. Install our
FREE Podcast App
available on iOS and Android. For your
Apple Devices
, click here to
install our iOS App.
For your
Android Devices
, click here to
install our Android App.
Check my
videos on Youtube
Check out our Podcast