Housing and Condo sales report by Winnipeg REALTORS® for Feb. 2013
.
Winnipeg REALTORS® have just released their February 2013 real estate market update for the housing and condo market in Winnipeg..  As it does every month, this real estate market report focuses on the listing and sales stats of the entire south-east corner of Manitoba, including Winnipeg, Selkirk, Steinbach and dozens of communities in this area.  Lets take a look at the highlights of this real estate market report:
February MLS® unit sales were down 11% (698/781) while dollar volume decreased 6% ($178.7 million/$191.0 million) in comparison to the same month last year. Year-to-date MLS® unit sales are down 2% (1,312/1,345) while dollar volume is up less than 1% ($325.7 million/$$324.3 million) in comparison to the same period last year. 

The most active residential-detached price range in February was the $250,000 to $299,999 at 22% of total sales activity. The second most active price range was from $200,000 to $249,999 at 17%. The highest residential-detached sale price was $1,075,000 and the lowest only $20,000. For condominiums, it was a tie with the $200,000 to $249,999 and $150,000 to $199,999 price ranges both having 24 sales or 25% each of total market share. 

The average days on market for residential-detached sales was 27 days, 2 weeks faster than last month and one ahead of the pace set in February 2012. The average days on market for condominium sales was 46 days, 5 days slower than last month and 15 days off the turnover in February 2012. Note: A change in how condominium units are being sold and accounted for in new projects is overstating how long they have actually been on the market. 

Condominium sales activity was much closer to last year as inventory was actually higher than what existed in February 2012 and conversions were similar to last year. 
These are excerpt statements from the press release.  For the full story, click on Winnipeg REALTORS® Press Release for February 2013
Click on these links for a look at all Remax-listed Condominiums in Winnipeg, or all Luxury Homes listed by Re/Max.
If you are looking to buy or sell, a house or a condo in Winnipeg, please call me anytime….  Bo Kauffmann  (204) 333-2202
Related Real Estate story
http://blog.winnipeghomefinder.comMarch 3, 2013 7:58:34 AM CST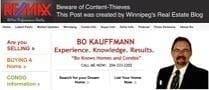 Winnipeg Real Estate E-News for Sunday, March 3rd 2013   Just for fun, here are some entertaining stories from the real estate world, both local and international.   If you're looking to buy or sell, a house or a condo in Winnipeg, please call me anytime, direct at (204) 333-2202.     Real Estate News […]
The post Winnipeg Real Estate News Magazine March 3rd, 2013 appeared first on Winnipeg's Real Estate Blog.
---
RSS Feed Powered by MaxBlogPress Bring My Blog Visitors Back
Did you find this information useful or informative?
---